Clarifying the Truth Sassa Addresses Misleading R700 Grant Rumors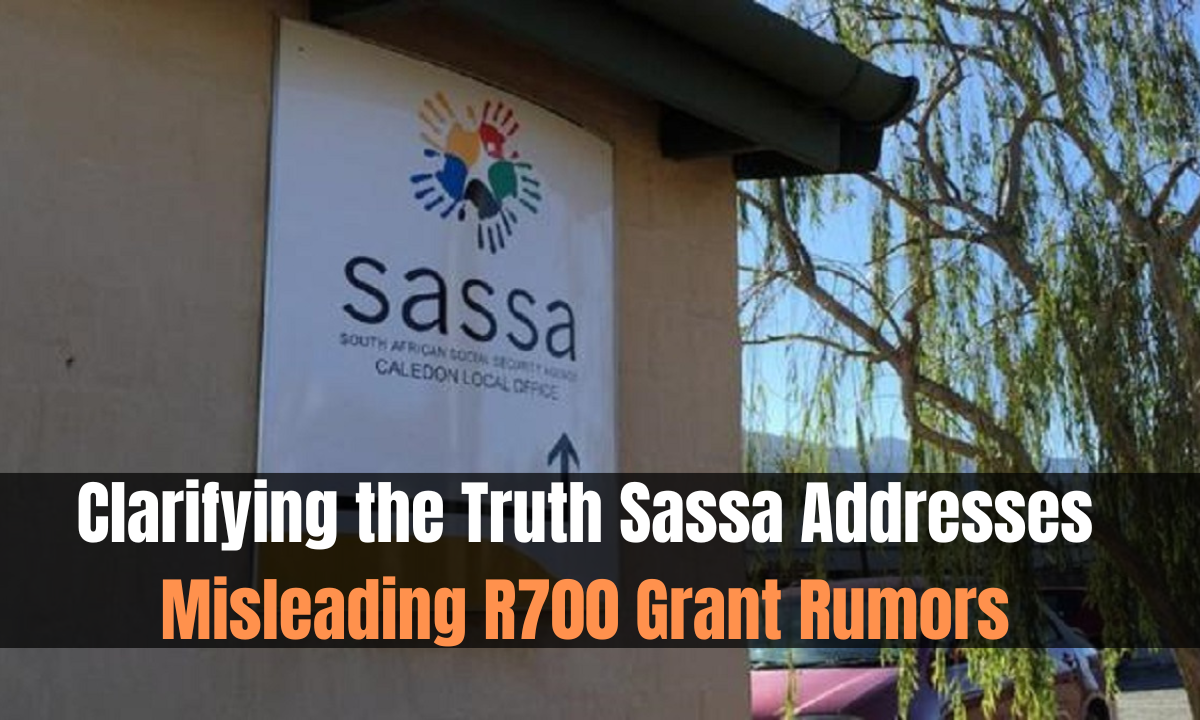 Clarifying the Truth Sassa Addresses Misleading R700 Grant Rumors. Sassa's Unwavering Commitment to Assisting Financially Struggling Citizens. Sassa, the South African Social Security Agency, plays a crucial role in distributing vital social grants to citizens grappling with financial difficulties. Despite their dedicated efforts, recent developments shed light on attempts to exploit the agency's beneficiaries.
Sassa's Vigilance in Action
Sassa stands as a steadfast provider of monthly social grants to millions of financially distressed South Africans. Nonetheless, it has come to the agency's attention that fraudulent activities are finding their way into this crucial process.
Recently, Sassa has flagged a spurious online message that is circulating among its beneficiaries. This message asserts the availability of a Sassa grant totaling R700 and provides a link for beneficiaries to register and apply. However, this message is unequivocally false.
Deceptive Tactics Targeting Vulnerable Beneficiaries
The misleading message appears to specifically target recipients of the Social Relief of Distress (SRD) grant, masquerading as an increase to the grant amount to R700. It is imperative to recognize that the SRD grant remains fixed at R350 per month, with its scheduled termination in March 2024.
Sassa's Advice to Beneficiaries
Faced with misinformation propagated under its name, Sassa consistently emphasizes the importance of not divulging personal information to individuals claiming to represent the agency. Beneficiaries are advised to exclusively engage with official communication channels for queries related to grant payments, schedules, and applications.
Will the R350 Grant Undergo an Increment?
Since its introduction in 2020, the Special Relief of Distress (SRD) grant has remained unchanged, and no upward adjustments to Sassa grants have been implemented. Vocal appeals for an increase in the SRD grant's value have echoed widely.
During a session of the National Assembly, a parliamentary member sought an explanation for this lack of increase. This inquiry has been posed to the government on multiple occasions.
The Department of Social Development offered insights into this matter, citing "fiscal constraints" as the primary impediment to an increase. The department further acknowledged its concern about the grant's inadequacy, elaborating on how inflation erodes its value over time.
Advocating for Change: 
The Department of Social Development made efforts to secure an increase for the grant by approaching the National Treasury. Regrettably, the request did not receive a favorable response due to the prevailing fiscal constraints. As a consequence, the grant's value remains stagnant, perpetuating its erosion in the face of inflation.
Conclusion
Sassa remains vigilant against deceptive schemes that threaten the integrity of its services, while beneficiaries continue to grapple with the unmet need for an increase in the SRD grant amidst fiscal challenges.