Guide to the R350 Grant Appeal for September 2023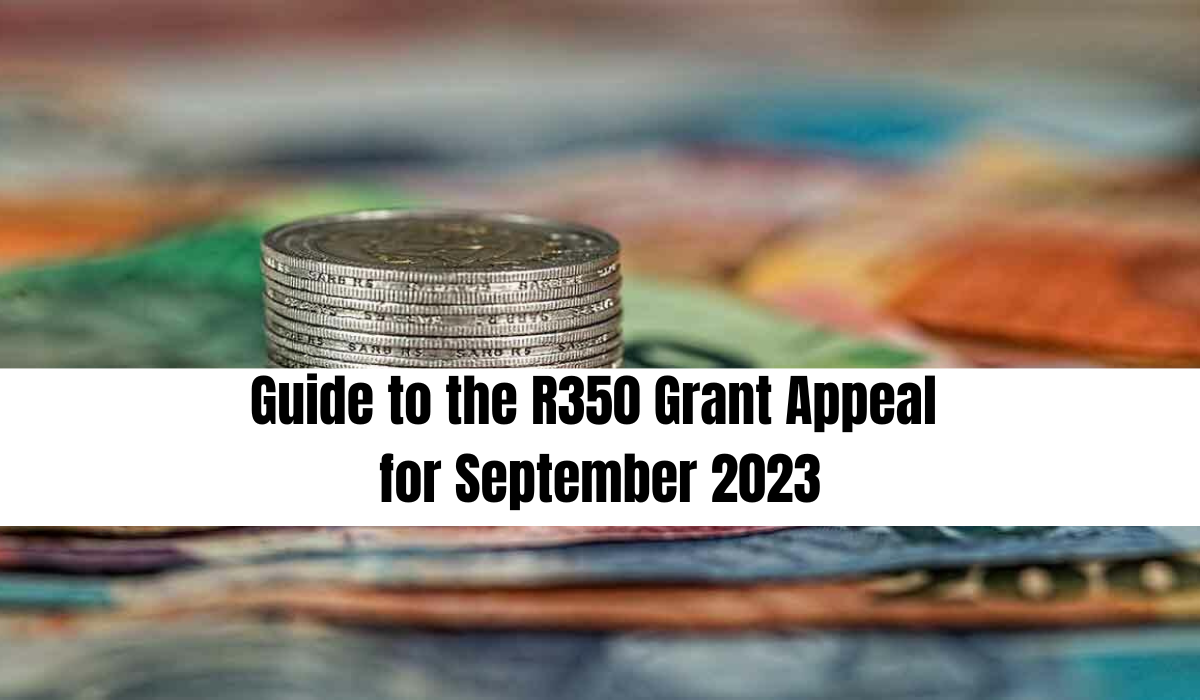 Guide to the R350 Grant Appeal for September 2023. When the R350 grant application doesn't go your way for September 2023, there's a silver lining in the form of the SRD grant appeal process. This comprehensive guide walks you through the necessary steps to turn your initial rejection into a successful appeal, ensuring you're not left behind in times of need. Check SASSA Status for R350 Grant.
Seizing Second Chances: Demystifying SRD Grant Appeals
Amidst the deluge of monthly applications for the SRD grant, not all applicants find success. If you believe your eligibility was wrongly denied, the SRD grant appeal mechanism provides a chance to present your case and potentially access vital financial support.
Access the Dedicated SRD Grant Appeals Website: Initiate the process by visiting the official SRD Grant Appeals page on the Sassa website.
Engage with the 'Click Here to Lodge an Appeal or Check Appeal Status' Feature: Locate and interact with the prominently displayed green bar that guides you toward lodging an appeal or tracking its status.
Personal Identification Entry: Enter your valid identification (ID) number as a primary step.
Cellphone Number Submission: Share your current cellphone number to facilitate communication.
Verification PIN Acquisition and Submission: Request and input the verification PIN sent via SMS for authentication.
Final Appeal Submission: With the verification PIN confirmed, press the 'Submit' button to finalize your appeal submission.
Specifying the Relevant Appeal Month: Indicate the specific month for which you are seeking appeal.
Reason Selection: Choose the appropriate reason for your appeal from the dropdown menu.
Completion and Submission: Conclude the process by clicking 'Submit,' ensuring your appeal is on its way.
Monitoring Progress: Tracking Your SRD Grant Appeal
Access the Sassa Appeals Website: Head to the official Sassa Appeals website to track your appeal's progress.
Input Your ID Number: Provide your unique ID number to enable identification.
Telephone Number Entry: Insert the telephone number associated with your appeal for accurate tracking.
Initiate Tracking: Take the final step by initiating the tracking process to monitor your appeal's status.
Should you require direct assistance or have inquiries, don't hesitate to reach out to the Sassa Call Centre at 0800 601 011.
Decoding Rejection: Insights into SRD Grant Denials
Understanding the reasons behind SRD grant rejections can empower you:
Existing Income or Benefits: The grant targets those without other income sources, grants, UIF funds, or NSFAS assistance. Receiving any of these may lead to rejection.
IRP5 Registration: A rejection labeled 'IRP5 Registration' indicates taxation and income, potentially rendering you ineligible.
Misconstrued UIF Records: Incorrect UIF notations could stem from outdated records or data discrepancies.
Conclusion
In harnessing this comprehensive guide and comprehending the root causes of rejections, you enhance your appeal prospects for the R350 grant in September 2023. Make your voice heard through the appeal process and potentially transform a setback into a stepping stone towards financial stability.